BRIAN SCHAFER
Founder & CEO
---
"Anything worth doing is worth doing right"
-B.Schafer
---
I
Retrospection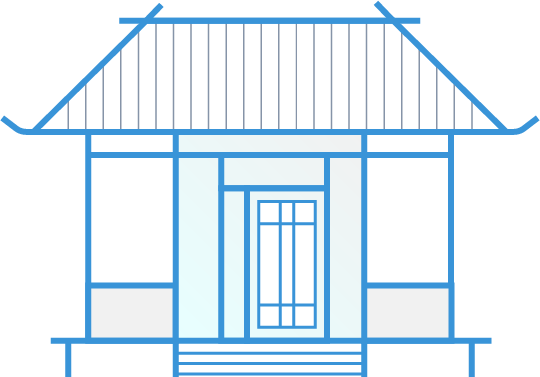 Through my 12 years tutorship with a Japanese Master Builder in Japan, I was taught how to build with integrity and intention. Japanese culture has an exceptional reverence for nature and fine wood and it was while working with these Master Carpenters that I became exposed to their deep appreciation of high quality materials, depth of texture, sophisticated joinery and finish details. These concepts have shaped my perceptions, influenced my approach to the craft of home building, and have strongly influenced my work.
It is a deep respect for the trade and a commitment to this level of craftsmanship that results in an environment of architecture and construction that has more attention to detail, more sophistication, more longevity, and more history to it.
Today, each of Big Cabin's Schafer Systems is the results of over 40+ years of custom log building craft and expertise.
---
II
Reviving Craftsmenship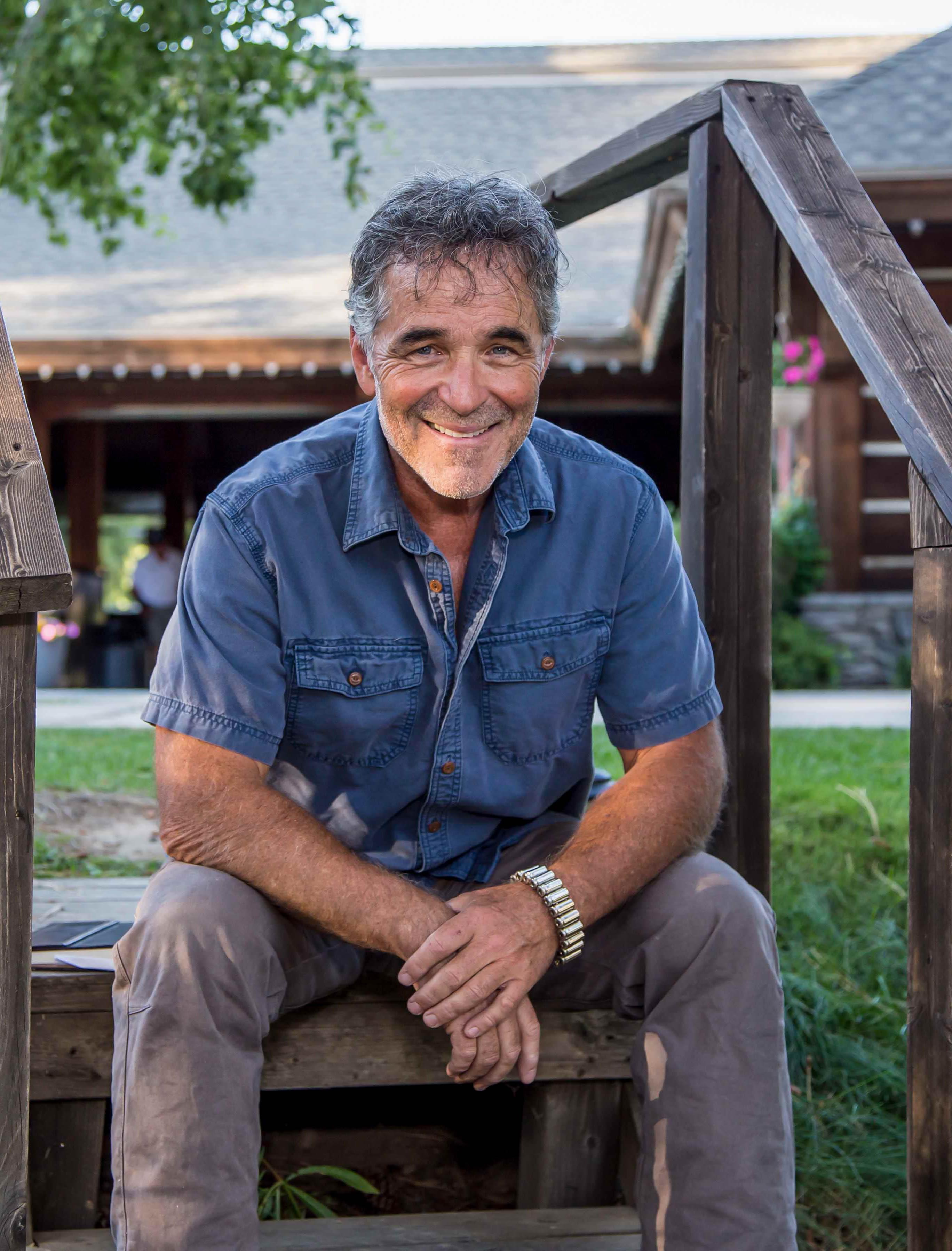 Looking back on my 40+ year career in the log and timber industry, I can say with pride that not only have I accomplished my dream of designing and building exquisitely crafted log homes, but I have been able to perfect Schafer Systems through each new, Edgewood project.
When I started out at 21, I had almost no experience with the business side of log and timber. My first attempt with the Log Home Log Company quickly taught me that milling and manufacturing timbers was only a fraction of what I ultimately would need to learn.
In order for me to be successful the way I envisioned, I had to take the time to learn the business as a whole- from the design side, to the raw material acquisition side, as well as on-site construction.
Creating this kind of high-quality, design-driven company would only come from a holistic understanding of all of these aspects of the business.
What I soon realized what that my vision was in direct opposition to the traditional way building companies had been run for decades. Our industry was simply dominated by mass-production building models.
In the 1950's and 60's when a family built a custom home, they hired an architect/master builder who worked directly with them throughout he entire building process. This individual not only built the house but carefully managed the construction, reviewed and approved the payments to the artisans working on the project, and was responsible for making key decisions about the material elements.
This level of 'creative ownership' and craftsmanship in home building has been largely forgotten in our industry, yet it has been a consistent, driving force behind how I choose to design and build a custom home and how we produce Big Cabin's products.
In 1991 I made a decision to relocate to Coeur d'Alene, Idaho and transition to a full-service log home construction firm known as Edgewood Log Structures. As the company grew, we found ourselves building throughout the Western United States. Edgewood's reputation became legendary for delivering extraordinary log homes with unprecedented levels of personalized service.
Today, with over 800+ successfully completed projects without a single call back for structural failure, I can say that I am genuinely proud of each and every home which bears the Edgewood name. Our projects span the western Rocky Mountains, from Steamboat Springs and Telluride, Colorado; to the San Juan Islands in Washington, Lake Tahoe, California, McCall, Idaho and as far internationally, as Japan.
What I have discovered in my 40 years of working with craftsmen, homeowners, and industry professionals is that people can actually feel the level of thoughtful design and detailing that is a signature of an Edgewood home.
Edgewood's decades of expertise and deliberate attention to detail, defines our entire product line at Big Cabin.
---
III
Stewardship & Sustainability
"Our clients really appreciate the difference that rare log materials make in the ultimate look and feel of their home. There's a special sense of pride that comes from owning a home constructed from historic materials that were acquired using methods carefully designed to sustain our treasured forests for future generations."
-B.Schafer
Idaho / Washington
Land Trust
Since its inception, Edgewood has been a leader in the conservation community. By helping to craft and implement the small timber stewardship programs in both Idaho and Washington, I was able to help define sustainable logging practices still used today in our industry.
Edgewood, and now Big Cabin source the majority of our logs through the state of Washington's Department of Natural Resources and the Idaho Small Timber Salvage Sale Program.
Through this Timber Program, diseased and dead standing trees are carefully harvested, leaving healthy green trees to grow to maturity. Just ten percent of standing dead trees in a given acre of land meet Big Cabin's quality specifications for harvesting; the rest are left to the preferred habitat, insects and natural forest regeneration and growth.
The Small Timber Salvage Sale Program is part of the "Sacred Trust"- a key element in Idaho's constitution, which describes the state's fiduciary obligation with respect to the funds received from state trust land management activities. Through the "Sacred Trust", proceeds from the sale of trees from the Small Timber Salvage Sale Program are specifically used to help fund public education in Idaho.
sustainable harvest
While many log home companies randomly purchase trees from a vast geographic area, the logs used in Big Cabin Schafer Systems are obtained close to the company's milling and construction operations in the Rocky Mountain West. This reduces our carbon footprint by reducing raw materials transportation, ensures that the logs used are of consistently high quality and have only been obtained using sustainable harvesting methods.
100% Utilized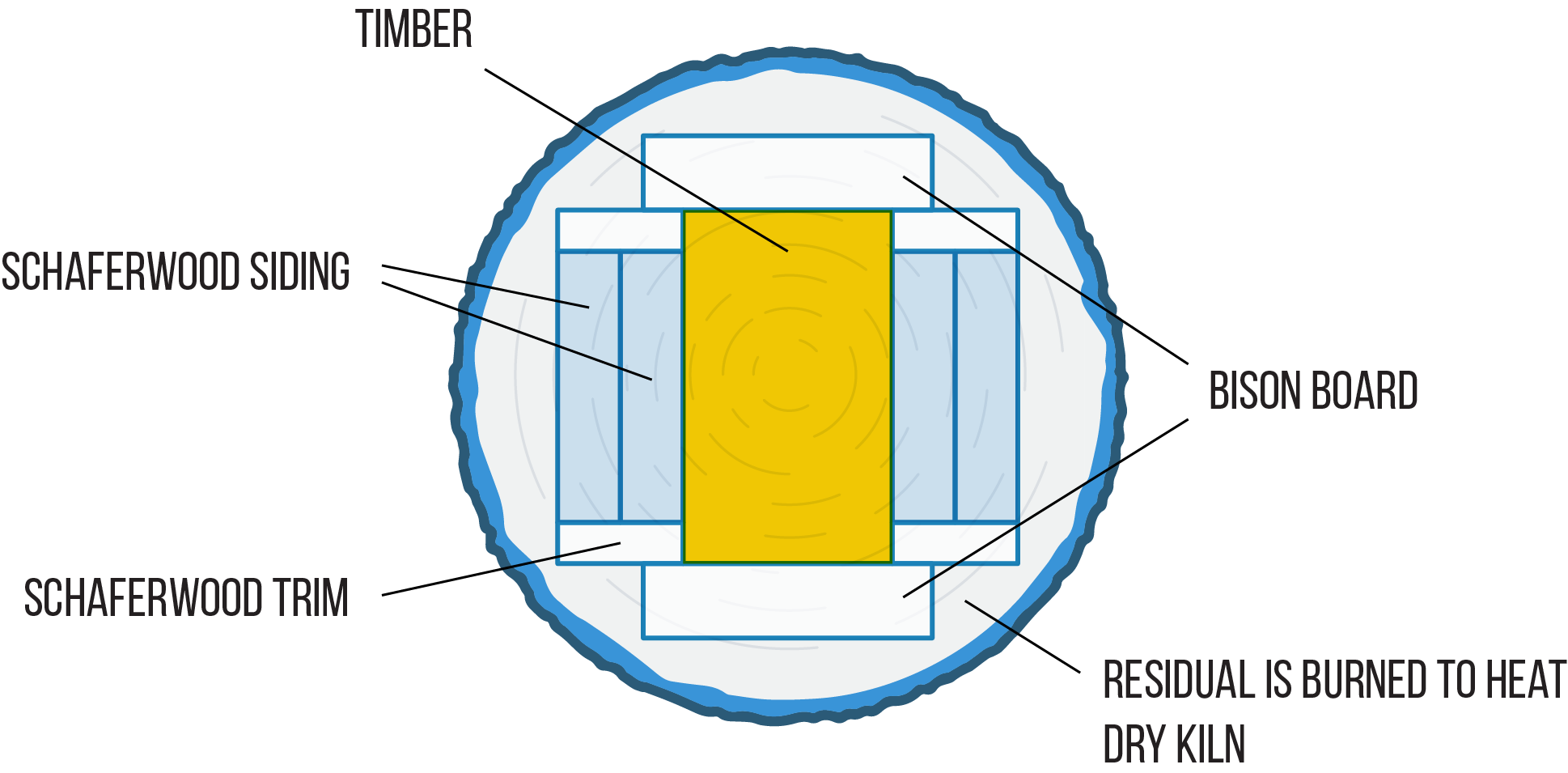 We hand select each log which ensures consistently, high-quality, raw materials. Then, we carefully cut each piece, extracting not only timbers but also siding. This process ensures that every possible part of the log is utilized. What remains becomes the fuel to fire our hand-built kiln which produces SchaferWalls.
I have always run my business in an environmentally conscious way. It is not only morally right, but results in a higher quality home. What drives me is knowing that homeowners will be proud not only of the way their home looks, but also of how carefully and consciously it been built. A home which truly has a reduced environmental impact on the land.
Big Cabin is committed to sourcing and manufacturing with practices which will preserve our treasured forests for future generations to come.
---
IV
Credentials
Business Experience
Founder- Big Cabin (Incorporated 2019)
Asset Acquisition- Log Products Sawmill and land near McCall, ID (2017)
Owner- Big Cabin Group (Incorporated 2013)
Asset Acquisition- Kermit's Log Works, Delta, CO. (2008)
Owner- Big Cabin LLC (Incorporated 2013)
Asset Acquisition- Western Spirit Log Homes, Victor, MT. (2005)
Owner- Edgewood Log Structures (Incorporated 1995)
Founder- Log Home Logs (Sole Proprietor 1984)

Projects of Note
1986 Washington State Parks Dept. Mount Spokane Ski Area Lodge. 7,200 SF. Custom Log Package and on-site assembly. $1.2 Million.
1988-1998 (50) Mountain cabins and commercial projects in Japan. Architecture/Custom Log WTSP, Delivery/Project Management. $18 Million.
1994 Chaparral Pines Lodge and Clubhouse, Payson, AZ. 14,000 SF. Custom Log Elements. $3.4 Million.
1995-1996 Custom Hybrid Home in Walla Walla, WA. 22,000 SF. Custom Cedar Log Elements. $9 Million.
1998 Kootenai County, Idaho Parade of Homes all category winner including People's Choice, Best Architecture and Craftsmanship. Custom home. Architect of Record/Project Management/Custom Log Package/Owner Agent Services. $900k.
2005-2009 Villages at Tristant, Telluride, CO. Twelve 10,000sf full log condominium buildings, ski in/ski out. Architect of Record/Project Management/Custom Log Packages/Owner Agent Services. $27 Million.
2008 Summit County, Colorado Parade of Homes all category winner including People's Choice, Best Architecture & Best Craftsmanship. Custom home. Architect of Record/Project Management/Custom Log Packages/Owner Agent Services. $2.1 Million.
2013 Family Compound on 120 acres with Custom Log Home near CDA, ID. 15,000 SF.
2013-2015 Family Compound on 120 acres with Custom Log Home 14,000SF. Near Coeur d' Alene, ID. Architect of Record/Project Management/Custom Log Packages/Owner Agent Services. $5 Million.
2016-2020 Lakeside Compound with Boathouse/Living Quarters, Docks, Custom Log Home and Ancillary Buildings on Lake Pend Oreille, ID. 12,000 SF. Architect of Record/Project Management/Custom Log Packages/Owner Agent Services. $7.2 Million.
Patents and Trademarks
Big Cabin Log & Timber™
Bison Board™
Edgewood®
Edgewood Log Homes®
Glass Forest®
Schafer Systems™
SchaferWall™ System (PATENT PENDING)
SchaferWood™
Thermal Blanket™ Roof System
affiliations and designations
(BSC) Building Systems Council
(NAHB) National Association of Home Builders
(LHC) Log Homes Council
(ILBA) International Log Builder's Association (NIBCA) North Idaho Building Contractors Association (TPM) Timber Products Manufacturers
(CGP) Certified Green Professional Designer